Salamandra Multi-aventura is a company that has been working in the tourism sector since 2005 and active tourism since 2010. There are various activities we offer, in which our participants enjoy a splendid day of adventure and take one of the best memories of their vacation days, canyoning with different levels of difficulty, kayaking routes along the cliffs of Nerja-Maro, mountain bikes, 4×4, caving and hiking theme. It was in October 2011 when we decided to open the first of our shops in the centre of Cómpeta, in order to respond to the needs of our customers in terms of sports equipment. Later, in May 2015, we expanded our business opening a new store, wider, in which we continue to develop our business and serving everyone who wants to visit. Now, we begin a new adventure with our online store, where we hope to meet and advise all our customers.
Quality
Variety
Offer
Security
Experience
Confidence
Adventures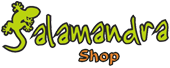 SHOP
All the material you need for the proper development of your favourite activities. Quality and price.
Why Salamandra Shop?
We could write reasons and reasons why Salamandra Shop is the most interesting option when deciding on the best material for the development of our sports and adventure activities, but it's enough to say that you can trust us, we have a lot of experience and we prioritise your satisfaction.